Livestreaming wasn't new before 2020, but it definitely exploded in the age of the quarantine. It was more associated with gamers on Twitch. They didn't need to know the best online tools to livestream. They didn't have to think about audio and visual quality like DJ's do. But now that no one can go anywhere, the ability to broadcast live on the media platform of your choice is just what DJ's needed.
Hopefully we'll all be able to go out again soon. But there are still a lot of other practical benefits of getting into livestreaming your set, like:
Increasing your overall exposure.
Being able to connect with people in real-time. (Maybe even people who tip?)
Maintaining or strengthening your personal brand.
All of these advantages come with leveraging social media to your advantage (and social media isn't going anywhere). It is a little more difficult to livestream online, given the difficulty of getting good audio and visual quality.
The "best" online tools to accomplish this feat of DJing depend on budget (of course), ease-of-use and capabilities. These are some of the best online tools to livestream, tools that suit the needs of the financially challenged, the tech savvy (or not), and those with a lot of custom needs.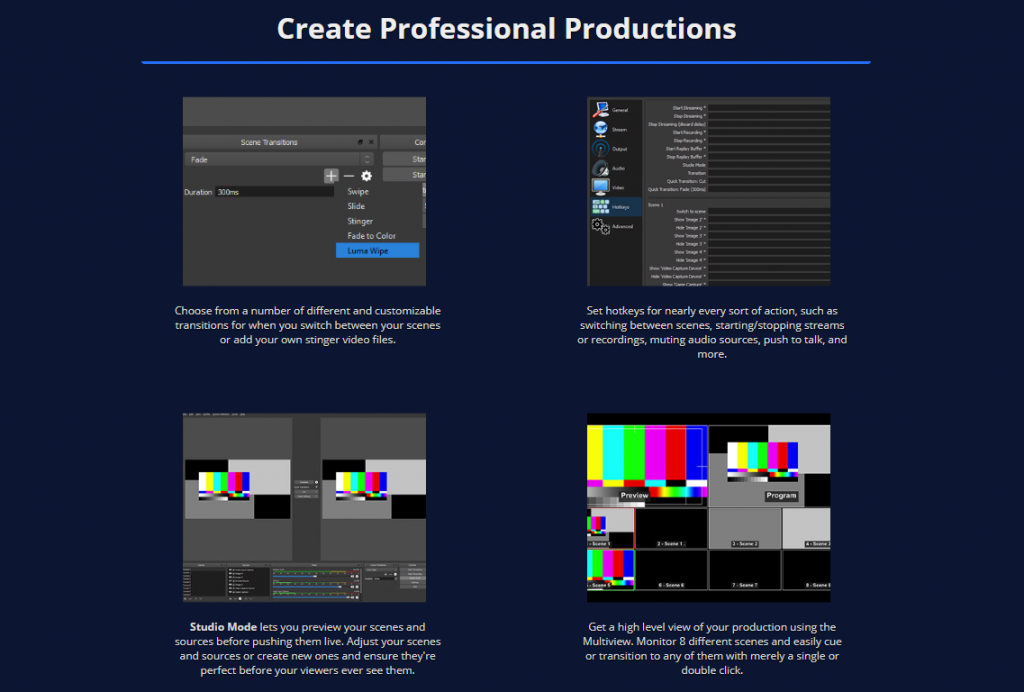 If you are reading just about any article about livestreaming software, OBS is going to come up. Why? Because right now, it's the standard. Which is pretty ironic considering that it's a community based project.
How it works: "scenes" and "sources" are the building blocks of your stream. "Sources" are the audio and visuals that you feed into the software. These are then compiled into "scenes." What you build in your scene is broadcast as your stream.
Because of the community based product setup, OBS is free (this sways many people) and is always being updated and added onto. It's compatible with Windows, Mac OS and Linux, and supports live streams on almost every platform you'd want it to: Youtube, Facebook Live, Twitch, Mixer, etc. The only platform that it doesn't cozy up to is Instagram, because Instagram is primarily a mobile app. However, there are workarounds, such as Yellow Duck, that allow you to produce a stream key from your IG account, enter it into your streaming service (including OBS) and just like that: you're live!
In terms of capabilities, there is a bit of a learning curve. But it strikes a nice medium when it comes to the level of difficulty and features available. There is an extensive realm of tutorials on Youtube because of its popularity. (And did I mention that it's free?)
Hot Topic: OBS vs. SLOBS
There is a second streaming software, Steam Labs Open Broadcaster System (SLOBS), which is a marriage between Streamlabs and the original OBS. Right now there is a hot debate about which one is better. SLOBS has a simpler setup, allows for in-stream chat, and is more customizable. However, because of all its features, SLOBS requires way more CPU usage.
Bottom line: if you do not have a lot of CPU capacity, don't bother. If you don't need a lot of customization, don't bother.
Virtual DJ

: An Online Tool to Use With Any Setup, or None at All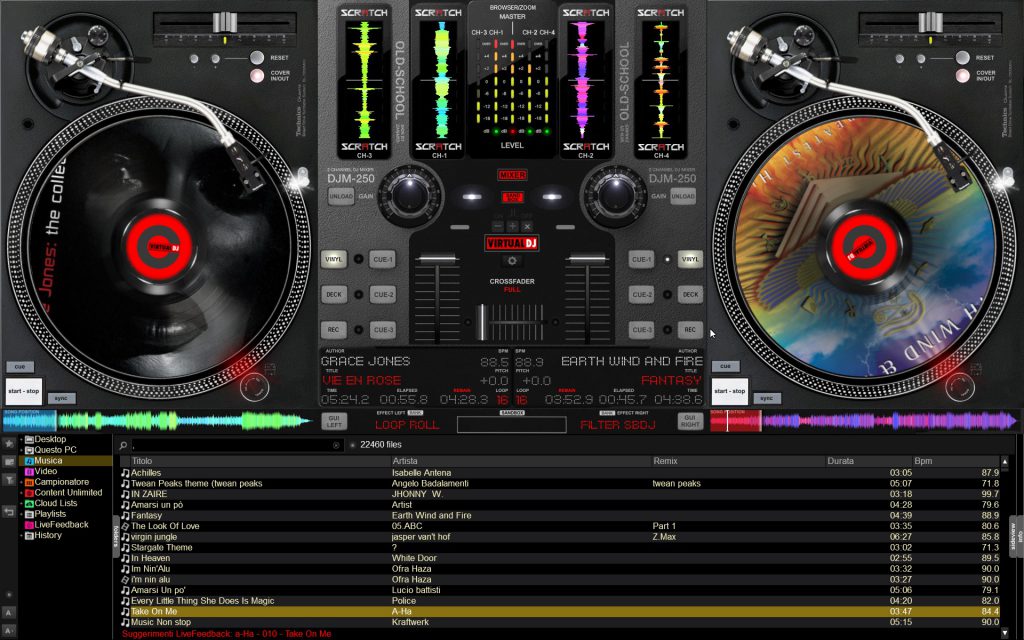 Undoubtedly, Virtual DJ's selling point is its versatility, which is why its one of the best online tools to livestream for any DJ, amateur to professional. It is a mixing software that is compatible with most mixers, or can be used with just your laptop.
How it works: it's supposed to look like a regular mixing controller, but highly customized. You choose the "skin" of it (a.k.a. the graphic design, depending on what you need your mixer to do), add in audio and video files, and get to work. While Virtual DJ does work with controllers, this powerful software aims, in part, to remove the cost barrier of getting the hardware so that anyone can stream. The interface can be made as intuitive or as feature heavy as you decide.
Virtual DJ has a lot of audio and visual mixing capabilities already built in, and anything new can be found in its community add-ons. It can take video and visualization inputs. But the fascinating aspect of the software is how it uses modern computing power to isolate parts of songs in real time, so that you can instantly manipulate any part of a song. Its ModernEQs can strip the voice away from a song, leaving an instrumental, or isolate a beat, way better than traditional frequency-based equalizers.
VDJ Price Tiers: Deciding How Professional You're Going to Get
Admittedly, the price tiers are a little irritating. The software as a standalone (without any external, physical controllers being used) is free. If you're using one controller, and never professionally (meaning no cash money is made) you can get a Virtual DJ Home Plus license for $49. If you're going professional, but maybe not forever, you can pay $19/month for a Pro license, or buy the Infinity Pro license at a $299 one-time purchase. There are some higher tiers. But I imagine if you're the kind of person with that kind of cash, you're probably not reading this article.
Essentially, price-wise: if you don't have a controller, use this software. If you have a controller, but aren't sure if you're going to go pro, get the monthly subscription, which you can cancel whenever. If your heart is set on Virtual DJ, I'm a big fan of the one-and-done kind of deals.
SYQEL: The Reactive Visualization Tool for your Livestream
Maybe you don't like the way your face looks, or you think visuals are more interesting. Either way, SYQEL is your visualization prayer answered.
How it works: SYQEL is a reactive visualization program that takes the audio from your microphone input (i.e. your microphone on your computer), and automatically creates stunning, trippy visualizations that transition along with your mix. It would be considered the visual input to a streaming software and would appear as a background or scene for your viewers to enjoy on-screen.
SYQEL offers 4K visualizations, personalizations, the ability to favorite designs, karaoke mode and your own custom streaming URL and logo. However, the best part is how simple it is to use. Your audio input passes right through the program to create your visuals, without you having to do a thing. This sets it apart from most other complicated visualization programs, and makes it one of the best online tools to livestream fast.
Visuals are secondary to audio. At the same time, your software supports them, so it's worth it to consider what your viewers might be seeing on their end.
A Side Note About Platforms: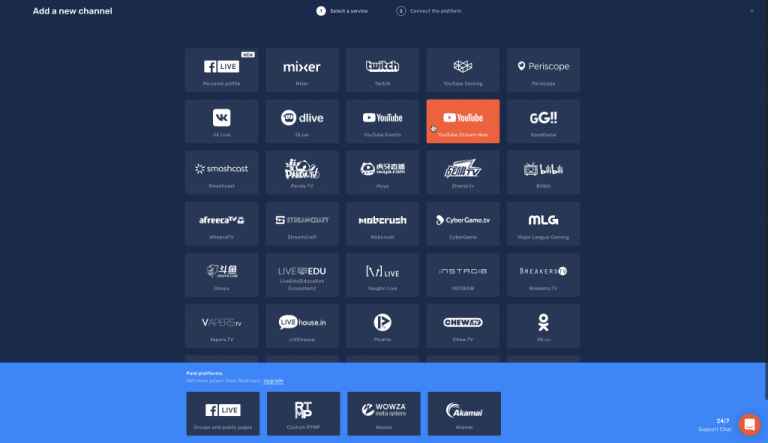 When we're talking livestreaming, we're also talking about reach. Software like Restream makes it easy to stream to several platforms simultaneously. In other words, you can be on thirty social media platforms, at once, for free. Restream is compatible with OBS, SLOBS, and many other streaming software programs.
The service allows you to chat with your viewers, share your screen, and (with paid plans) create custom graphics and logos. In addition, you can perform analytics on your platforms to determine where you're getting the most viewers from.
This is by no means an extensive list: the DJ community is always rolling out something new. This is more a starting point for you to think about the best online tools you need to livestream with good audio and visuals, and to get viewers, based on your resources.
Tell us your own tips and tricks for livestreaming in the comments below!